Basic Philosophy
The KONOIKE Group values the relationships of trust we enjoy at the front lines with our customers. We help to create value across a wide range of fields, forging partnerships that enable our customers to concentrate on their core businesses. The KONOIKE Group strengths provide a wide range of value rich in creativity and innovation, not only in logistics, but also in areas such as production processes and services. The source of these strengths is our human resources. We respect the human rights of each employee, and we conduct our business activities on the basis of our respect for humanity and relationships of trust. In an environment where the demographic pyramid has inverted with fewer young people and more senior citizens, we are working to build the foundations for our human resources. This includes restructuring our personnel systems and rolling out many different initiatives, including providing an environment in which each individual can work with a sense of reward and with work-life balance. We also work to improve retention rates through an emphasis on dialogue with employees, including a new career consultation desk. Simultaneously, we will strengthen our investment in people through Group employee training to promote human resource development and make KONOIKE an employee-friendly corporate brand.
2030 Vision
(A) Pursue Human Resources Development Under Management Strategy
(a) Develop business human resources in line with business strategy
The KONOIKE Group does business in a variety of formats, each of which requires a human resource strategy that is tailored to each individual business strategy. We set clear goals for how many people with what skills are needed by when, and systematically train professionals in logistics, on-site contracting, engineering, and other fields.
(b) Develop highly specialized corporate human resources
With our transition to the Tokyo Stock Exchange Prime Market, even greater governance is required of us. Therefore, we will train professionals with greater knowledge and control capabilities inhouse in corporate units such as corporate planning, legal affairs, general affairs, human resources, and accounting. In order to cultivate advanced knowledge and skills, we will systematically promote human resource development by establishing a career path system and skill requirements per rank for each unit.
(c) Develop human resources with strong problem-solving and proposal skills through cross-division collaboration
In human resource development for business and corporate professionals, it is very important that these resources gain experience outside of their field of expertise in order to accumulate a broader variety of skills, knowledge, and experience. In particular, acquiring the ability to look at things from a holistic view through job rotation helps develop human resources with strong problem-solving and proposal skills. The KONOIKE Group will actively strengthen interdepartmental collaboration and expand Group-wide education to complement and share accumulated experience.
(d) Strengthen expertise in technological innovation and ICT units and improve literacy throughout the Group
Technological innovation and ICT skills are universal skills needed in all businesses. Since October 2020, 376 employees have participated in the Course on Advanced Technology to Change the Workplace and the AI Programming Course to improve productivity in the workplace, and we will continue to offer these courses in the future. In February 2023, we will launch the DX/IT Basic Literacy Course to deepen each employee's knowledge of digital transformation and IT and promote our transformation into a Group with greater productivity.
(B) Raise Employee Job Satisfaction (Engagement)
(a) Instill the Corporate Philosophy
For the KONOIKE Group to grow and enhance its corporate value, it is important that employees trust their company, fully understand the best direction forward, and maintain a desire to contribute. Underlying this is the essential requirement that each and every member of the Group understands its Corporate Philosophy and puts it into practice in their daily work. In order to foster this understanding, we will promote inner branding activities through Katariba workshops, where management and employees engage in broad-ranging dialogue.
(b) Pursue employee happiness
In order to fully demonstrate the performance of each individual, it is necessary to create an environment in which employees feel a sense of purpose and job satisfaction and are able to work independently. We believe there is a strong correlation between the level of happiness felt in work and performance achieved, and that this happiness is a very impactful element. For this reason, we are launching regular wellbeing surveys for our employees in 2022, and we will use the results of these surveys to identify issues and implement measures for improvement.
Human Capital Management in the 2030 Vision
People are a major theme in the KONOIKE Group's management issues and strategies. This means that the growth of people, the source of the Group's strength, is the key to sustainable enhancement of corporate value. The 2030 Vision calls for human capital management that aims to use investments in people, such as education and training, to maximize the performance of human resources and thereby enhance corporate value over the medium to long term. In order to bring about innovation that defies conventional wisdom, such as the introduction of cuttingedge technologies, digitalization, decarbonization, changes in work styles, and diversification of values, we will strengthen our investment in people to develop human resources with strong expertise and diverse perspectives who can generate new ideas, boosting our corporate value in a sustainable way.
Human Resource Development
We feel that providing safe, high-quality services essential to the KONOIKE Group's business activities can only be achieved through people who possess the KONOIKE mindset expressed in our Brand Promise, where we strive to go beyond expectations. Further, we believe that developing human resources is one of the most important key points to focus on in supporting our business strategy. The KONOIKE Group operates on a dual axis of on-the-job training (OJT) through practical work in the workplace and off-the-job training (OFF-JT) at facilities such as our three in-house training centers. In teaching a wide range of knowledge, from the fundamentals of safety and quality to highly specialized operational knowledge and the human and conceptual skills necessary for business management, we are working to develop programs based on our own unique educational system. In addition, with our vision for 2030 as People, leveraging technology to reach for new heights, we will further evolve our on-site solutions to solve the problems facing our customers and society. To this end, it is important that we acquire professional knowledge and skills based on safety and quality, essential elements in a variety of workplaces. With a primary focus on front line workers, we will use our two in-house centers, the Konoike Techno Training Center*1 and the Safety/ Quality Training Center*2 to further enhance rank-specific training for managers, site management skills, logistics skills, practical skills, and education for acquiring qualifications. In pursuit of sustainability, it is also important to develop human resources who actively contribute to the ongoing growth of the KONOIKE Group, and who have broad perspectives and good judgment befitting a listed company in the interest of expanding our business strategy. However, in line with the policy of "providing the knowledge and skills necessary to execute work tasks, fostering employees who demonstrate outstanding creativity, rational judgment, and the ability to take action," we also seek to develop the next generation of management personnel, including those at Group companies*3, through training programs for career-track employees based on years of service, rank, and individual selection at our Shimaya Training Center, as well as through volunteer external dispatch programs and more.
Front-Line Worker Education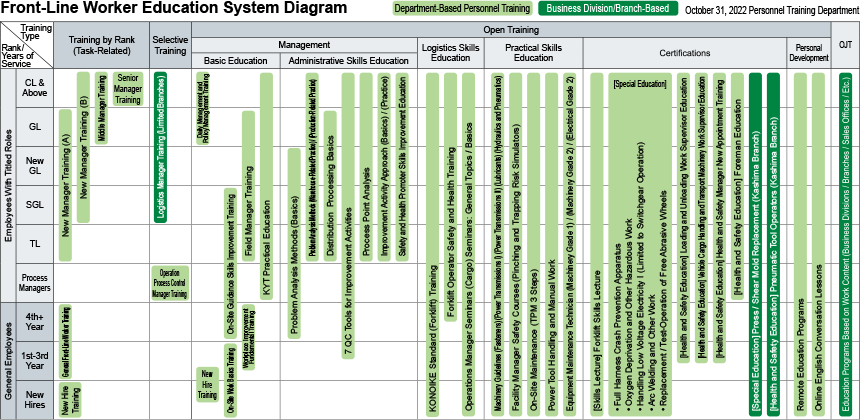 *1 Konoike Techno Training Center (Osaka)
Personnel acquire knowledge from general and basic knowledge, including safety and quality, to process management (5S management, analysis/improvement methods, laws and regulations, etc.), and obtain the necessary skills at contract service sites (equipment operation, maintenance, qualifications, etc.).
Equipment Maintenance Training

Pinching and Trapping Risk Experiences Education

Examples of tool control with fixed position, product, and quantity

Equipment Maintenance Technician (Electrical) Exam Preparation
*2 Safety/Quality Training Center (Chiba)
As a nationally accredited institution, this center provides forklift skills lectures and operations manager seminars, as well as a variety of other safety training programs based on laws and regulations, including safety and health promoter skills improvement education and foreman education.
Forklift Skills Lecture

Driver Aptitude Checkup
Forklift truck operation qualification/operation manager training (cargo)
*3 Promoting the development of next-generation management personnel, including at Group companies
In order to align capability levels across the entire Group and strengthen the development of next-generation management personnel, we are progressively enabling Group company employees to jointly take part in training programs for career-track employees based on years of service and rank. The available curriculum is currently being expanded from the 7th Year Fundamental Training, New Chief Fundamental Training, New Assistant Manager Fundamental Training to also include the Manager Development Training (Beginner) program for executive management candidates.
Career-Track Education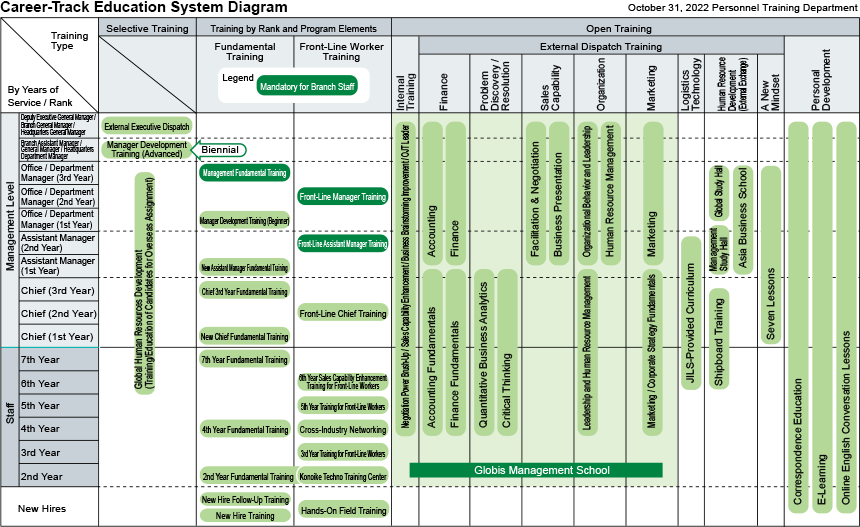 Developing Global Human Resources
It is essential to develop global human resources to support a wide variety of customers, whether already global or pursuing globalization. By developing human resources with a broad base of knowledge and cultural understanding, the KONOIKE Group continues to deepen our integration into local landscapes, customs, and cultures, developing business that is rooted in local areas. To this end, we are developing global human resources internally and recruiting diverse human resources, including foreign nationals and international students.
Check the KONOIKE Group Integrated Report 2022 here.