Message from the Executive in charge of Sustainability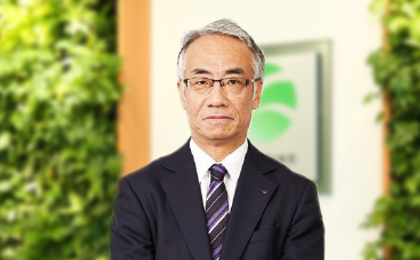 The corporate philosophy and mission of the KONOIKE Group is, "We pursue innovation at the foundations of our society that creates unique value, driven by respect for humanity and relationships of trust." As described in the history section of integrated report, the KONOIKE Group continued to grow our business from the very first orders the company received for the Shin-Yodogawa River excavation work. This spirit has carried forward to the group's business activities across a wide range of industries and business sectors, even 142 years later. KONOIKE Group activities include safety and quality leading to improved productivity not only for customers, but also for society as a whole. The group strives for CO2 emissions reductions and other considerations for the global environment, while building infrastructure that responds to the demands of local communities. The group has been engaged in sustainability and relationships with stakeholders before the term sustainability was ever coined.
Sustainability Implementation Structure
We have seen drastic changes in socioeconomic conditions due to COVID-19 and other factors. These changes have influenced the way people see society, and given rapid rise to sustainability consciousness. The Japan Corporate Governance Code, which was revised last year, calls for sustainability initiatives in strong terms. We recognize once again that we must strengthen sustainability initiatives more than ever, if the KONOIKE Group is to continue to be trusted and needed by our stakeholders. As a first step, the KONOIKE Group established an internal structure and basic policies in November 2021 to promote sustainability. To achieve sustainable growth as a company, we will continue to strengthen safety and quality assurance, bolster our environmental and other initiatives, and develop human resources to support these efforts. In this way, the KONOIKE Group continues to respond to the demands of society that change with the times. And we will make every effort to ensure our activities are properly understood and trusted by our stakeholders.
Specific Sustainability Initiatives
Led by the Sustainability Committee, the KONOIKE Group strives to conserve resources and energy to reduce the impact of climate change caused by socioeconomic activities. We also pursue initiatives toward decarbonization, including the adoption of renewable energy. Through our business activities, we work actively to contribute to the reduction of environmental impact, to adopt technologies and improve performance, and to contribute to the prevention of global warming through the creation of circular societies. At the same time, we recognize the importance of reducing risks in responding to issues related to sustainability. We not only reduce risks, but see risks as profitmaking opportunities. The KONOIKE Group will strengthen our broad technological capital and business portfolio, which includes technological development, work-site expertise, improvement activities, and high levels of safety and quality. In this way, we will enhance corporate value over the medium to long term. In advancing these initiatives, we understand that the source of KONOIKE Group added value is in the front lines of our business and in the people who work there. To embody our Corporate Philosophy of respect for humanity and relationships of trust, we emphasize investments in human capital, including education and training, as well as respect for human rights.
To Our Stakeholders
The COVID-19 pandemic and other recent events have caused a major upheaval in social and economic conditions. These events have had a negative impact on the KONOIKE Group. But we are confident we will overcome these difficult times thanks to the constant efforts across the company, our ongoing partnerships with customers and business partners, and the understanding of our shareholders. To live up to the trust you have placed in us, we will continue to listen to your feedback regarding sustainability, all employees working as a united organization to achieve this goal.
Thank you for your continued understanding and support of the KONOIKE Group and our business activities.
Check the KONOIKE Group Integrated Report 2022 here.