Basic Philosophy
The KONOIKE Group corporate philosophy states that we pursue innovation at the foundations of our society that creates unique value, driven by respect for humanity and relationships of trust. Above all, we believe that safety and quality are extremely important for the bond that connects us to our customers.
It is the responsibility of a company to make its earnings grow. Our growth depends on customers trusting the front lines of the KONOIKE Group. For that reason, we believe safety, quality, and business performance are three equal factors in an important trinity. We strive to create a unified awareness among all KONOIKE employees: Quality supports trust, the front lines support quality, and safety supports the front lines.
In response to an environment and challenges that change moment-by-moment, we act flexibly within the scope of our annual corporate quality policy, striving to ensure greater safety in operations and improved quality.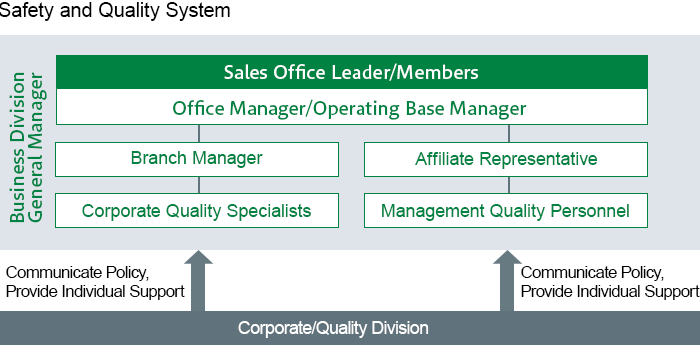 2022 Corporate Quality Policy
Expand the establishment of initiatives targeting near miss accidents to identify latent dangers and reduce risks
Improve safety awareness by strengthening a safety-oriented mindset through periodic training
Confirm and improve site conditions through two-way communication using dialogues
Use 4M*5E** analysis to investigate the true causes of problems and take effective countermeasures
Increase front-line capabilities through safety initiatives developed by employees themselves
*

4M: Man, Machine, Media, Management;

**

5E: Education, Engineering, Enforcement, Example, Environment
Target
Safety
Rate of Lost Worktime Injuries (Konoike/Group Companies)
0.29 or less
Rate of Incidents (Konoike/Group Companies)
2.00 or less
Partner Business Closures
3 or less
Traffic Accidents
Commercial Vehicle Accident Rate (KONOIKE/Group Company Vehicles)
0.19 or less
Business-Related Vehicles/Overseas Subsidiary Accidents
3 or less
Number of Accidents at Partners
3 or less
Quality Incidents
Critical Quality Incidents (100,000 yen or more)
29 or less
Transportation Safety Initiatives
Safety and Quality Activity System
We conduct our health and safety and quality activities based on the Corporate Quality Policy announced at the beginning of the year. Based on the Corporate Quality Policy of the Head Office, each sales office incorporates activities for the year into their operating plans, after which they proceed with the activities through the SDCA cycle. Offices engage in PDCA cycles to resolve any challenges that may arise. Once these improved methods are standardized into SDCA, the offices return to the SDCA cycle. In addition to the above-mentioned daily safety activities, the Head Office Corporate/Quality Division and each corporate quality specialist and individual in charge work together to tackle individual issues each year. In FY3/2022, we continued our efforts from the previous year, working to reinvigorate initiatives concerning near-accidents. Each corporate quality specialist or individual in charge selected one location under their jurisdiction for 4M5E analysis of factors interfering with near-accident initiatives. They then wrote measures for reinvigorating near accident initiatives in the work process chart. Each specialist and individual in charge worked together with the Head Office Corporate/Quality Division via web conference to check progress, including progress on items noted in the work process chart. In principle, safety and quality activities are carried out under the direction of each general manager, the branch manager and the sales office manager in order. However, each corporate quality specialist or other individual in charge assigned to a branch or affiliate receives individual support from the Corporate/Quality Division and provides support for the activities at each sales office.

Occupational Safety and Health
From cargo truck transportation to our wide range of other businesses, Konoike Transport constantly works to maintain and improve the level of transport safety and workplace accident prevention, both of which are central to our corporate culture of safety.
To this end, we formulated our Basic Practice Management System to embody our principles for dealing with occupational safety and health matters.
These guidelines form the basis for all efforts to reduce and eliminate potential causes of work-related accidents on the road, in the workplace, and elsewhere, and to ensure that our employees stay safe and healthy.
Transportation Safety and Quality Management System
We have defined points to check for each item relating to transportation safety and quality, based on which we confirm the activity status of each sales office. This mechanism is our Transportation Safety and Quality Management System. We conduct inspections once a year at the branch office and once every three years at the Head Office. Under the Transportation Safety and Quality Management System, we strive to reduce workplace accidents by checking the status of small-group activities and the practice of confirming by pointing and calling. We also emphasize risk assessments and other front-line activity audits and check for the establishment of a safety management system as required by Japan's Industrial Safety and Health Act. We divide the standard for certification into three levels to help us visualize the level of safety activities at each office.
1. Basic Policy for Transport Safety
Our executives understand that transport safety is key to Konoike's operations, and they provide leadership in seeing that it is implemented.
Our executives constantly stress the paramount importance of transport safety to all employees.
We are thorough and meticulous in carrying out the plan-do-check-action (PDCA) cycle in all transport safety-related matters, and the entire company functions as one in striving to raise the level of transport safety.
We inform the public of what we are doing to maintain and improve transport safety.
2. Key Measures
Foster a strong awareness of the importance of transport safety, and abide by all related laws and company regulations.
Invest in facilities and equipment that will further transport safety.
Conduct in-house audits on transport safety and correct any problems discovered during these audits.
Establish systems for the smooth flow of information related to transport safety, and ensure that all relevant information is shared in-house.
Carry out education and training on transport safety.
Implement safety education training for subcontracting companies that have continuous contracts with us.
3. Safety Targets
Through the appropriate operation of the Transportation Safety and Quality Management System, we aim at zero at-fault accidents and zero single-vehicle accidents. The status of automobile accidents is as follows:
Traffic accidents: Targets and actual number
Fiscal Year
FY3/2023
Note
Previous Year
0.25
The values represent the accident rate.
(Accident rate per 1,000,000 km of driving)
Formula: (number of at-fault accidents + number of single-vehicle accidents + number of not-at-fault accidents with some negligence on our part) / total travel distance × 1,000,000km
Result
0.27
Breakdown of the result for the term ended March 2023 (total for the KONOIKE Group)
The number of at-fault accidents: 8
The number of single-vehicle accidents: 8
The number of not-at-fault accidents with some negligence on our part: 4
(Out of these, the number of accidents based on Article 2 of the Rules of Automobile Accident Report) 0
During the term ended March 2023, we received no order to ensure transportation safety, business improvement order, disposition to suspend the use of automobiles and other transportation facilities, or disposition to suspend business.
4. Equipment for TransportSafety
All vehicles are equipped with daytime auxiliary LED lighting.
Digital Tachographs and driving recorders are installed on all our automobiles.
(Driving recorders will be replaced with those equipped with AI one by one by March 2023.)
To detect sleep apnea syndrome (SAS) at an early stage, from fiscal year 2008, we adopted a system under which all drivers undergo diagnosis once every two years continuously.
As an effort for accident prevention measures, we utilize equipment such as Sleep Buster (equipment that prevents one from dozing off), Sleep Scan (ascertains one's sleep state), and Mobileye (addresses inattentive/drowsy driving) as measures to prevent drowsy driving and accidents from arising due to inattentive driving or health state.
Aptitude Test
In our offices in Chiba, Saitama, Gunma, Ibaraki, Kanagawa, Aichi, Osaka, Wakayama, and Kumamoto, we have installed a total of 16 units of NASVA Net, which was developed by the National Agency for Automotive Safety and Victims' Aid, and conduct aptitude tests for drivers.
We have introduced a video-based KYT* as a teaching tool for driver training, and we are holding workshops at each office.

This is a new type of hazard prediction training device that improves hazard sensitivity (driving and judgment level) by having drivers watch videos of traffic conditions.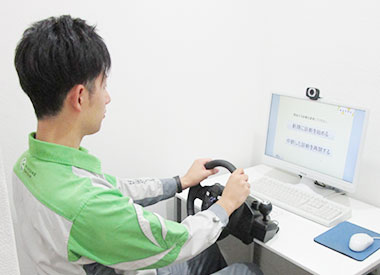 Central Health and Safety Committee
The Central Health and Safety Committee meets twice a year, attended by representatives from labor and management. A total of 50 participants attend these meetings, including 32 from the company side such as business division general managers and branch managers, and 18 from the union side, led by the Executive Chairman. In FY3/2022, the first meeting was held in June 2021 and the second meeting was held in December 2021. The first meeting, held in the first half of the fiscal year, focuses primarily on the previous fiscal year's safety performance and accident trends, as well as discussing future issues and initiatives. Members also share information on amendments to relevant laws and regulations as well as the status of labor union activities during the previous fiscal year. At the second meeting during the second half of the fiscal year, participants discuss safety results and accident trends from the first half of the fiscal year, as well as future issues and initiatives, and discuss and decide on the Corporate Quality Policy for the next fiscal year. Like in the first meeting, members also share information on amendments to related laws and regulations as well as the status of labor union activities during the first half of the fiscal year.
Initiatives to Prevent Accidents
Monitoring driving situation with drive recorders installed
A drive recorder continuously records images of the road ahead of the vehicle (in the forward direction) and of the driver's seat.
We are currently in the process of switching from conventional drive recorders to AI-based drive recorders. When an AI-based drive recorder detects driver distraction or any of the three types of aggressive driving (sudden breaking, sudden acceleration, and abrupt steering), it not only makes a warning sound inside the vehicle to caution the driver, but also has a function to immediately send videos or images of dangerous driving to the manager over the network. It also calculates a safe driving score for each driver based on the frequency and timing of warnings, which enables more effective and appropriate daily safe driving instruction and is expected to prevent problems and traffic accidents.
Safety Experience Education
In FY3/2020, we began providing safety experience education for the purpose of raising individual safety awareness. In this education, people (safely) experience being pinched by real machines, learn to prevent mistakes by using the pointing and calling method, experience tip-over accidents in virtual reality, and experience a simulation of getting hit by a forklift. The virtual reality training was implemented for the purpose of raising awareness through realistic experiences, especially for inexperienced young employees and elderly employees who tend to experience accidents at higher rates. In addition, we took equipment out into the field to conduct on-site experience-based training for employees too busy with their own work.
Safety Experience Education Course Participants
| FY3/2021 | FY3/2022 | FY3/2023 |
| --- | --- | --- |
| 133 | 961 | 668 |
Training for guidance and education
In October 2022, we held the KONOIKE Group Truck Driver Contest at the Chubu Truck General Training Center over the course of two days. This was the first such event in three years, and a total of 18 drivers representing each office participated in the medium-sized vehicle, large-sized vehicle, and trailer categories, competing for a place based on their total score from the written examination, inspection competition, eco-driving competition, and practical skills competition. In addition, we also worked together with dealers and the Aichi Truck Association to hold a workshop based on the content of the competition.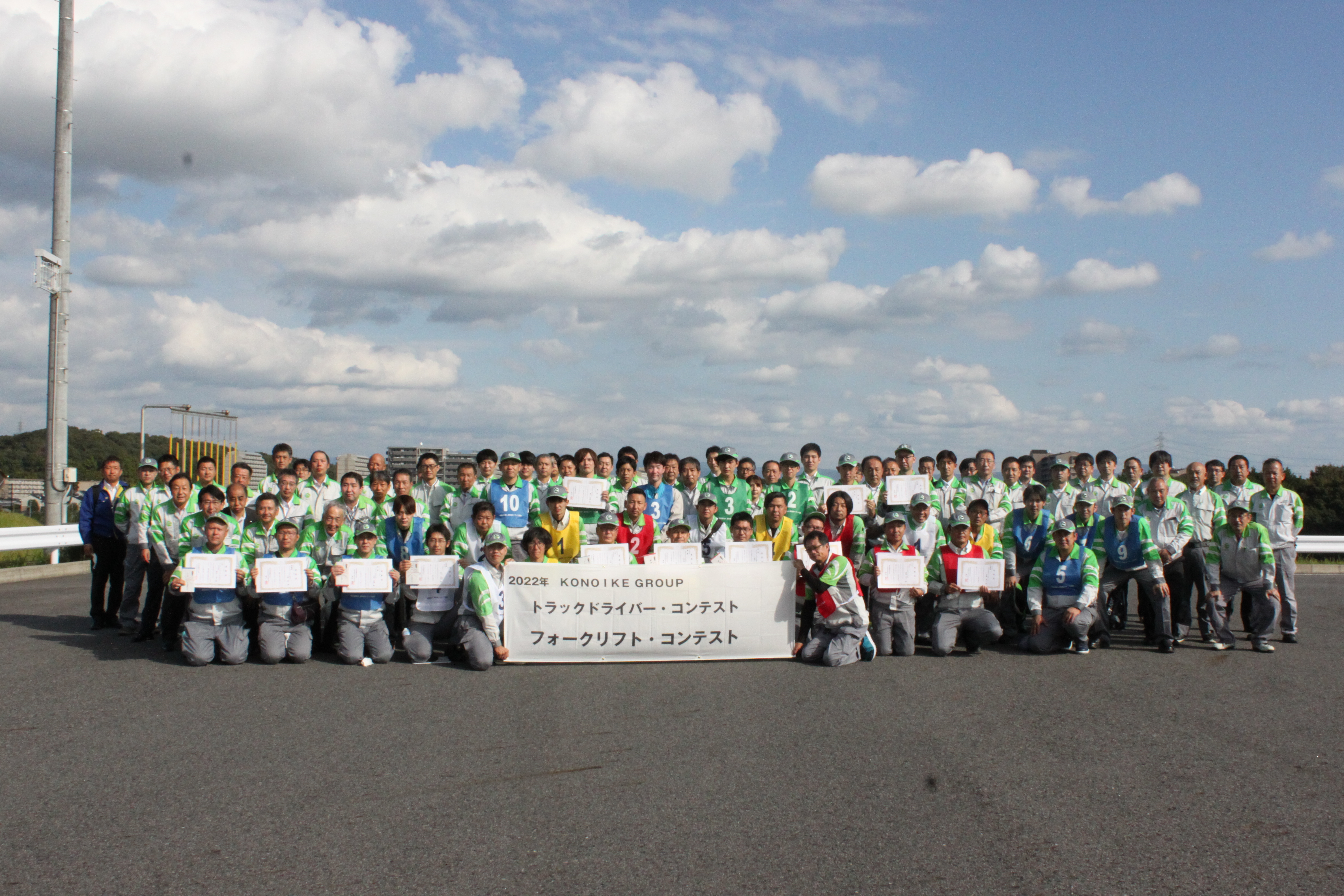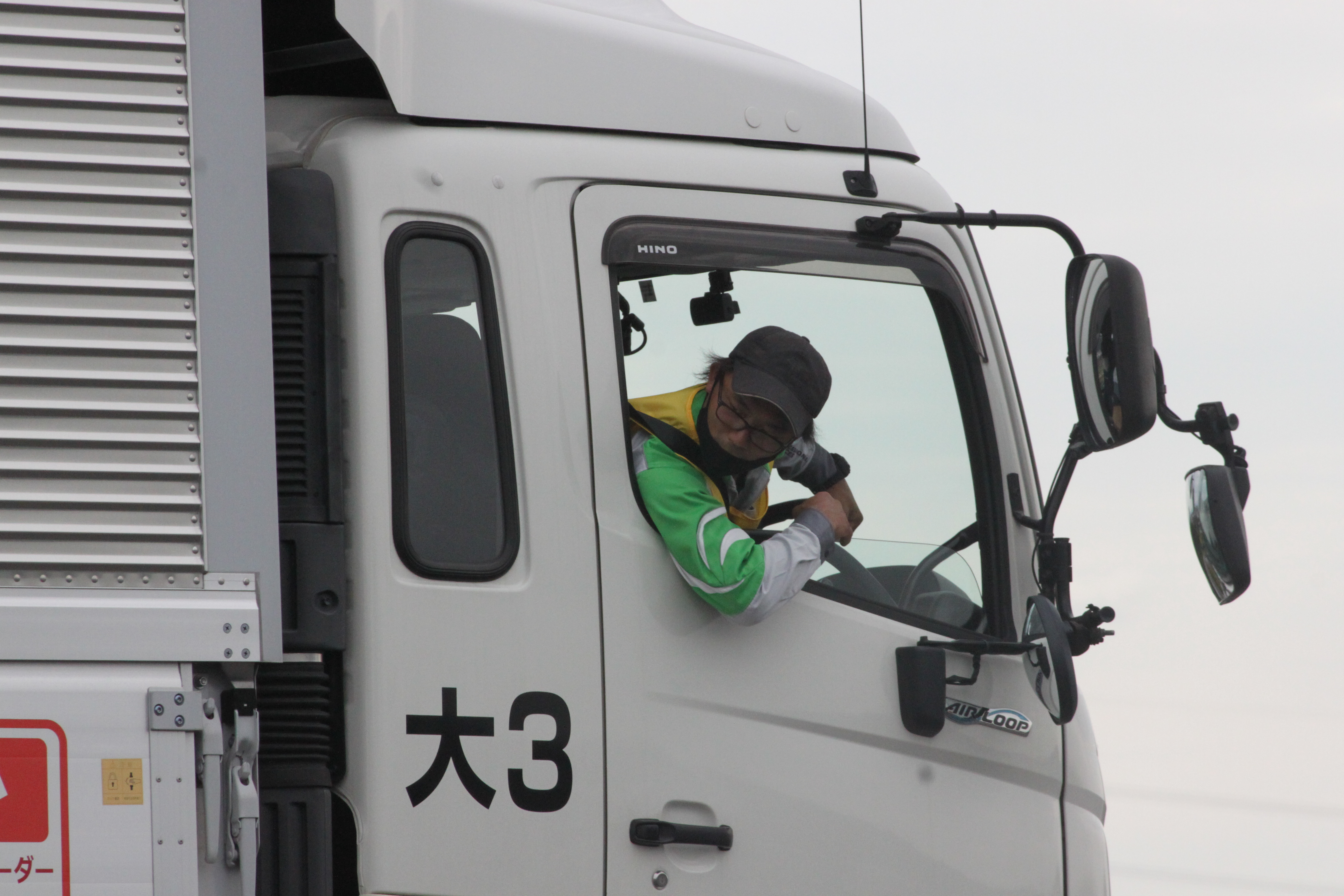 Initiatives for Employee Health
Stress Checks and Mental Health Care
The KONOIKE Group conducts stress checks in accordance with legal requirements. If a stress check results in a report, we hold an interview with an industrial physician and strive for improvement. To improve mental health, we established a system in which two employees at each sales office, having obtained certifications in a line care course for mental health, act as contact points to facilitate attentive care for employees in need.
Supervision of the Board of Directors for Occupational Health and Safety
Once a quarter, reports are made at the board of directors on matters related to occupational health and safety. The number of workplace accidents is analyzed by sorting them by the number of occurrences, years of work experience of the victims, type of workplace accident, and other factors. This analysis is used to report on workplace accident trends for the quarter in question and initiatives for the next quarter given these trends. Analysis is also conducted for automobile incidents by the number of occurrences, type of injury or damage, type of commercial or business-related vehicle, and type of owned or outsourced vehicle. This analysis is used to report on matters to be addressed in the next quarter based on incident trends for that quarter. Reports are similarly made for quality incidents.
Work-Related Accident Data (KONOIKE Group Totals)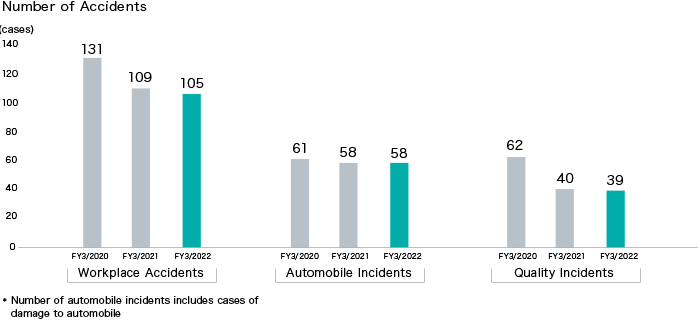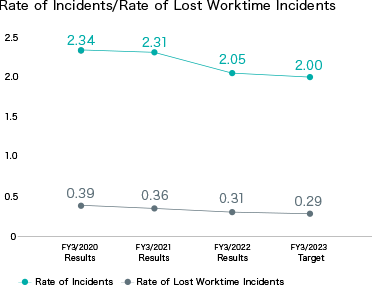 Rate of Incidents
| Industry Average | Transport Business Average |
| --- | --- |
| 2.09 | 3.31 |
(From 2021 Ministry of Health, Labour and Welfare data)
Rate of incidents: Number of fatalities and injuries in occupational accidents ÷ total working hours x 1,000,000 hours. Excludes cases for which hours could not be calculated (employees of partners, temporary staffing companies, and overseas subsidiaries).
Rate of lost worktime incidents: Number of persons losing worktime due to workplace accidents ÷ total work hours x 1,000,000 hours. Excludes cases for which hours could not be calculated (employees of partners, temporary staffing companies, and overseas subsidiaries).
Quality Initiatives
Initiatives for Customer Satisfaction
Quality is a very important factor in building relationships of trust with customers. Accordingly, we have been pursuing K-QMS (KONOIKE Quality Management System) activities.
By listening during customer visits and through customer communications, we identify customer needs, set goals at the beginning of the year, and confirm progress in our Transportation Safety and Quality Management System. After taking corrective measures and measures against recurrence for problems that arise at an operating location, we share information about the incident throughout the company via corporate intranet to prevent recurrence of similar issues.
Developing Internal Auditors
Under our K-QMS program, sales offices conduct internal audits on each other. The purpose of internal audits is to confirm operating conditions. For example, audits determine whether the established K-QMS conforms to customer requirements, laws, and regulations and whether it is effective. Because it is so important to give internal auditors the knowledge needed to conduct these audits, the Head Office Safety/Quality Department organizes internal auditor development trainings about four times a year.
Safety and Quality Activity Presentations
A Group-wide event is held each April to present reports on safety and quality activities. During the event, there are presentations about particularly excellent activities from the previous fiscal year and chances to share information about initiatives with all employees. The approximately 200 offices and affiliates in Japan engage in preliminary competitions within their respective branches and affiliates, with the selected winning groups from each advancing to a meeting of their respective business divisions. Those winning at their business division meetings advance to the Group-wide meeting. Eight groups in total made presentations of their activities in FY3/2022. That included three presentations on safety, three on quality, and two on increasing productivity.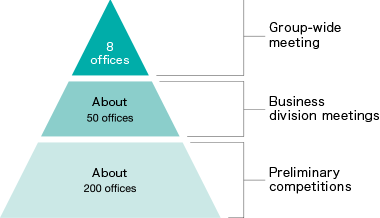 Internal Award System
Each year on the day in May set aside to commemorate KONOIKE's founding, we present awards to offices and individuals that have made outstanding contributions to transportation safety and quality, as well as offices that have demonstrated excellence in their activities. For FY3/2022, 14 offices and individuals were honored in the safety category, 50 in the transportation category, and 12 in the quality category.
Activities With Our Clients
Joint Activities With Our Clients
It is essential that we collaborate with our partners in carrying out our work. We engage in active communication with our partners to align our approaches regarding safety and quality improvements.
Each sales office holds councils with partner companies, conducts safety activities addressing the same topics as their partner companies, and strives in other ways to perform coordinated activities.
Business Partner Visits
Each year, sales office representatives visit partner companies to share information about safety activities, quality activities, and the status of legal compliance. In this way, we ensure that both the KONOIKE Group and our partners continue to improve. During these visits, representatives confirm the management policy, business plan, transport management, driver and vehicle management status, and safety activities for each trucking company based on the Partner Management System Evaluation Table. For partner companies working with us as on-site contractors or dispatchers, we also check their legal documents, insurance coverage, employment contracts, and health and safety activities. Visits were made to 370 partner companies in FY3/2022.
Activities with Our Communities
Watching Over Children on Their Way to and From School
Our sales offices located near elementary schools are engaged in activities to watch over children on their way to and from school. Timed with the beginning and end of classes, employees stand along routes to and from school to assist elementary school students as they cross crosswalks. As a logistics company that uses trucks, we work with local police, municipalities, and elementary schools to ensure the safety of children on a daily basis.
Truck Ride Events
Since 2019, we have been holding truck ride events for children in locations across Japan to raise awareness and eradicate traffic accidents. Children sit in the truck driver's seat to learn about blind spots with their own eyes. We also hold a traffic safety class to explain the difference between the inner wheels of trucks and the relationship between speed and braking distance.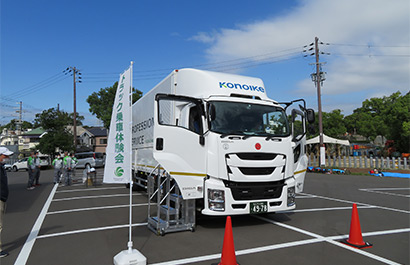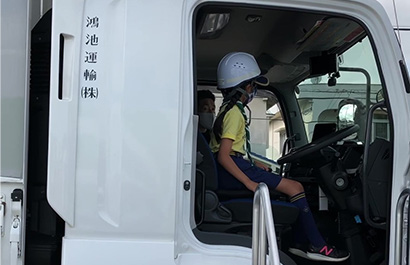 Check the KONOIKE Group Integrated Report 2022 here.