Initiatives in Corporate Activities
1. Actions to Prevent Global Warming
We consume a great deal of fossil fuel-derived energy resources, including diesel, gasoline, and electricity. We recognize our serious and sizable responsibility to reduce our CO2 emissions and are working to do so.
Advancing Modal Shifts
We are pursuing modal shifts as one activity to solve environmental issues through our business. By using railroads and ships for transportation instead of trucks, it is possible to significantly reduce CO2 emissions originating from long-distance transportation. Rail freight transportation is also an effective way to address a shortage of long-distance truck drivers. Additionally, there are benefits for customers, such as stable transportation schedules and reduced transportation costs. This is why we pursue logistics based on modal shift with such focus.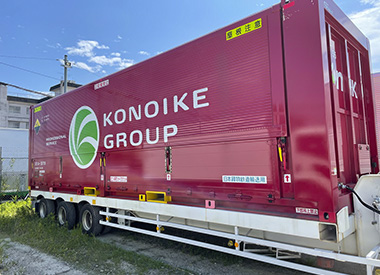 Eco-Conscious Driving
The KONOIKE Group was one of the first transportation groups to adopt eco-driving to reduce CO2 emissions. At locations that own vehicles, we strictly manage the fuel efficiency of all vehicles and continue to make efforts to reduce CO2 emissions. While eco-friendly driving is important, daily vehicle maintenance is another critical element of eco-driving. In addition, eco-driving means safer driving, since drivers learn to avoid abrupt braking, acceleration, and steering. We continue to consider and practice eco-driving as an effective means for ensuring transportation safety.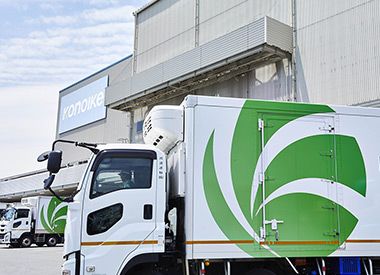 Adopting Low-Emission Vehicles
In light of recent major changes in the environment regarding resources and energy, we now feel a greater sense of social responsibility as a business operator involved in logistics. Part of this responsibility is to reduce our environmental impact. We are moving forward in the adoption of low-emission vehicles that emit less carbon dioxide (CO2) and the air pollutants nitrogen oxides (NOX) and particulate matter (PM).
Hydrogen-Powered Fuel Cell Forklifts
In 2018, we became the first logistics firm to implement fuel cell forklifts. Currently three units are in operation. Hydrogen forklifts generate energy and drive via hydrogen fuel, making them a superior performer for the environment. While in operation, they do not emit CO2 or other substances that have a negative impact on the environment. These forklifts are also very convenient as they can be fully charged in about three minutes.
Further, we generate the hydrogen using electricity from solar power, resulting in forklifts that are CO2-free.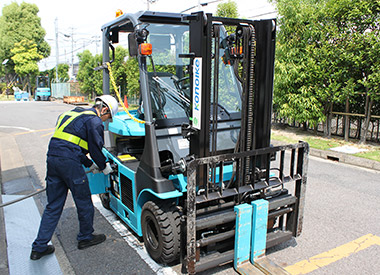 2. Aiming Towards a Sustainable Society
Perfect Recycling System

At the KONOIKE Group, we are developing a recycling business for industrial waste aiming for both industry growth and environmental conservation. At group-owned factories, we established a unique system for retrieving resources from hard-to-separate industrial waste without producing any secondary waste. By leveraging limited, precious resources effectively, we support our customers' businesses from an environmental standpoint and contribute to the global environment. Group company Eco Innovation Inc. has built the Perfect Recycling System*, which effectively leverages customer-owned resources while generating zero waste.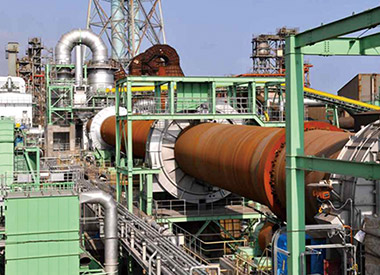 Perfect Recycling System: A technique used for recycling industrial waste that contains iron, zinc, carbon, etc., without generating secondary waste. This system uses an RC resource circulation furnace to take waste that would have previously been disposed of via landfill and recycle it into good-quality iron/zinc resources. The CO2 resulting from this processing is kept at a minimum, and gas emissions from processing can also be reused as resources.
Utilization of Solar Energy
Photovoltaic arrays that the KONOIKE Group owns in 21 places around Japan contribute to the decarbonization of earth by producing 16 GWh of renewable energy yearly. Additionally, the heat-shielding effects of solar panels mitigate increasing temperatures within our warehouses, resulting in an additional contribution to a lower carbon footprint at our logistics centers. Solar power intended for internal use will be standard equipment for newly established distribution centers. Batteries will enable the centers to store energy, so that surplus electric power can be used at night or sent to other locations. By such means, we aim to make the most effective use of renewable energy and contribute to the wider decarbonization of society.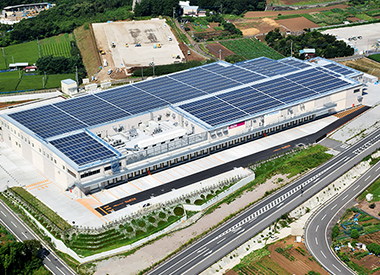 Pursuit of the 3Rs and Green Procurement
The KONOIKE Group pursues the 3Rs (Reduce, Reuse, Recycle) as a means to conserve resources. Each sales office establishes activities and targets, contributing as much as possible to a reduction in environmental impact. Each business location has set targets for green procurement, striving to choose products with the lowest environmental impact.
Switching to CO2-Free Electric Power
In FY3/2022, the KONOIKE Group started switching to electric power derived from renewable energy and to CO2-free electric power using J-Credits. In the Kansai region of Japan, we have endorsed the Renewable Energy Procurement Matching Project* promoted by the government of Osaka Prefecture. Accordingly, five of our locations in the prefecture are switching to renewable energy for their power. Furthermore, in our medium-term management plan to FY3/2025, we are switching all of our existing electric power contracts to renewable energy, as we actively take steps to reduce our Scope 2 CO2 emissions.
A scheme in which Osaka Prefecture supports RE100 and similar initiatives by electric power customers in the prefecture. It works by identifying customers and electric power derived from renewable energy around Japan and helping to match them to each other.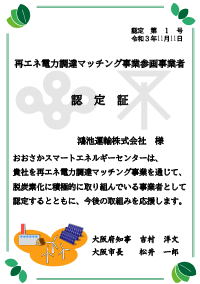 3. Social Contribution Through Our Business Activities
Railway Transport Business in India That Both Lowers Environmental Impact and Streamlines Logistics
In recent years, India's economic development has been increasing and the country is in urgent need of a distribution network as social infrastructure. Trucks have become the leading method of land transportation. Therefore, transportation delays due to traffic congestion and the air pollution of exhaust gas have become major social problems throughout India. This has led to demand for modal shift. In response, in 2017 the KONOIKE Group launched a rail container transport business in India, the first such business by a Japanese company. Rail transportation offers a large capacity in a single trip and can reduce environmental impact in ways that contribute to the prevention of global warming. Currently, the construction of a freight railway between Delhi and Mumbai is underway as a national project. We hope to further improve our transportation capacity in India, further reduce our environmental impact, streamline logistics, and contribute to India's economic development. As we do so, we are also striving to help prevent global warming.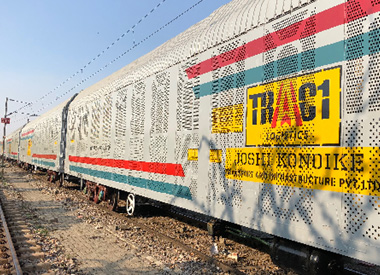 A car carrier train in India. A single train can accommodate approximately 300 small finished vehicles
Using Tokyo Rail Gate to Promote Modal Shift
By utilizing modal shift, we have generated about 5,000 tons in annual reduction impact for the KONOIKE Group's CO2 emissions. To further promote modal shift, we opened the new Tokyo Rail Gate Sales Office in April 2020. The sales office is located in Tokyo Freight Terminal Station, the largest freight station belonging to JR Freight. The site is close to improve our transportation capacity in India, further reduce our environmental impact, streamline logistics, and contribute to India's economic development. As we do so, we are also striving to help prevent global warming. Tokyo Bay and Haneda International Airport. For that reason, we are operating the sales office as a key base for modal shift in the KONOIKE Group. Many customers with ambitious environmental targets have begun requesting service by this sales office specifically because it helps them to reduce their Scope 3 CO2 emissions.
Endorsement of Government-Promoted Environmental Measures for a Sustainable Society, and Promotion of an Environmental Management System
The KONOIKE Group endorses and has registered with the government-wide national movement COOL CHOICE and promote initiatives such as Cool Biz, Warm Biz, and indoor temperature control in all workplaces. In addition, we are responding to the problem of marine plastics in concert with the Plastic Smart Campaign and continuing cleanup activities at various locations.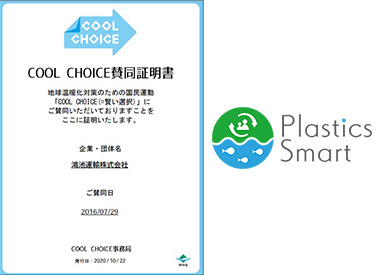 The group has acquired ISO 14001 certification and is working to reduce our environmental impact as required by international standards.
Company: Eco Innovation Inc.
Registration number: JMAQA-E304
Certifying entity: Japan Management Association, Quality Assurance Registration Center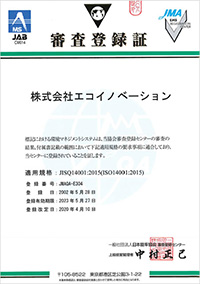 We acquired the Green Management Certification offered by the Foundation for Promoting Personal Mobility and Ecological Transportation under the jurisdiction of the Ministry of Land, Infrastructure, Transport and Tourism. This is just one recognition of our work to ensure transportation safety and reduce environmental impact.
Organizations with Green Management Certification
Konoike Transport Co., Ltd. 37 offices  Konoike Express Co., Ltd.
Japan Airways Co., Ltd.      Konohana Transport Co., Ltd.
Kanriku Co., Ltd.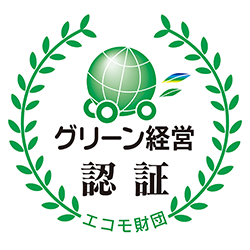 4. Biodiversity Conservation Activities
Biodiversity Conservation Activities in Osaka Bay
As a company founded originally in Osaka, we have been participating in the activities of an environmental conservation NPO to conserve the ecosystem of Osaka Bay since 2013. For example, we have been helping transplant eelgrass to Osaka Bay. Eelgrass is a type of marine plant found in coastal areas. Eelgrass beds provide habitats for a variety of organisms, offering an abundant source of plankton and other food for fish. These beds also provide an environment suitable for spawning fish and growing fry. Moreover, these beds absorb nitrogen and phosphorus which facilitates eutrophication. This process improves the water quality of the surrounding sea area. However, the area covered by eelgrass beds has been shrinking due to development along coastal areas. Today, almost no eelgrass can be found in Osaka Bay. Every year in June, the KONOIKE Group works with elementary school students in the local community surrounding the Osaka Head Office to collect and raise eelgrass seeds. The seeds are transplanted to Osaka Bay the following spring.
Raising Eelgrass Seedlings

Transplanting Eelgrass

Eelgrass
Participating in the 30by30 Alliance for Biodiversity
The 30by30 Alliance for Biodiversity was established as a voluntary coalition of the Ministry of the Environment and other government agencies, corporations, and NPOs to achieve the domestic goal of 30by30, an international commitment to conserve 30% or more land and sea as healthy ecosystems by 2030. The KONOIKE Group agrees with the purpose of establishing the Alliance and will contribute to securing a healthy ecosystem and realizing a sustainable society for NbS*, which will lead to simultaneous resolution of economic, social, and environmental issues in the region.
NbS: Nature-based solutions

5. Activities with Our Communities
Yodogawa River Clean-Up Activities
The Yodogawa riverbed cleaning activity began in 2012 in the Denpo district (currently Konohana Ward, Osaka) which is the district where the KONOIKE Group was founded. Only 30 employees participated in the first cleaning activity. Now, nearly 200 people participate, including local residents. In recognition of the efforts of the KONOIKE Group, we received the River Protection Achievement Award* in 2020 from the Yodogawa River Office, Ministry of Land, Infrastructure, Transport and the Tourism Kinki Regional Development Bureau.
River Protection Achievement Award: An award presented to individuals and groups who have been involved in river cleaning and protection activities over an extended period of time.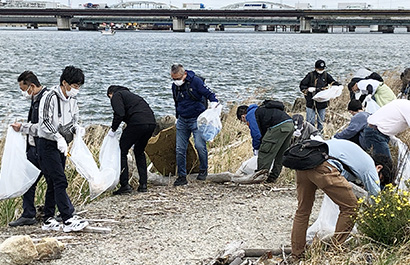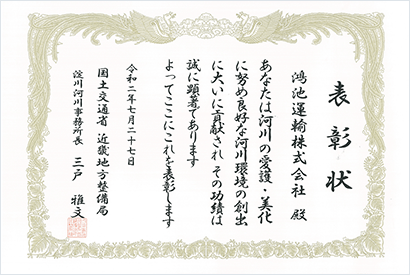 Other Community Contribution Activities
In addition to the contributions mentioned above, the KONOIKE Group has been involved in other environmental activities in various communities, such as cleanup activities around sales offices, cleaning of agricultural waterways, and afforestation.
Check the KONOIKE Group Integrated Report 2022 here.