Compliance Initiatives/Crisis Management
Compliance Initiatives
To put our Corporate Philosophy into practice and be a company trusted and loved by customers and society, the KONOIKE Group must comply with laws, ordinances, and social norms, as well as conduct business fairly and transparently. To this end, we established a Corporate Ethics Code. Under this code, we further defined a Compliance Code and Operational Regulations on the KONOIKE Helpline, which we use to ensure compliance with and practical application of the Corporate Ethics Code. These measures guide our efforts to raise compliance throughout the group.
Raising Compliance Awareness
We regularly conduct a compliance awareness survey for career-track employees. Based on the results of the survey, we provide compliance education during annual and rank-based training. During each training, we reiterate the Basic Philosophy, describe case studies of wrongdoing and misconduct within and beyond the group, discuss observations from government offices, and work to raise employee awareness of ethics. In particular, compliance is not only limited to adherence to laws and other rules. We are thoroughly committed to the necessity of facing all stakeholders with integrity in accordance with ethical and social values and social norms as well.
Initiatives for Overseas Subsidiaries
We must promote the KONOIKE Group philosophies to overseas subsidiaries, where business practices differ from those in Japan. In addition to the implementation of a compliance awareness survey and online compliance training, we conducted an engagement survey in FY3/2022 to gauge employee attachment at each local subsidiary and work to increase engagement through activities such as Katariba. We hold study meetings on our corporate ethics code for managers and promote thorough enforcement of the Basic Philosophies of safe and comfortable workplaces, contribution as a corporate citizen and care for the environment, as well as fair transactions.
Internal Reporting System
The KONOIKE Group offers the Konoike Helpline as an internal reporting system. We also offer access to a law firm as an external reporting point for employees who are reluctant to report to an internal party. Although there are no official policies in this regard, members of the Audit & Supervisory Board sometimes receive reports directly. In these cases, the member contacts the staff overseeing the Konoike Helpline to investigate the report. Report contents are submitted to the Compliance Subcommittee and the board of directors. We have also introduced internal reporting systems at some locations outside Japan, planning to gradually expand these reporting channels.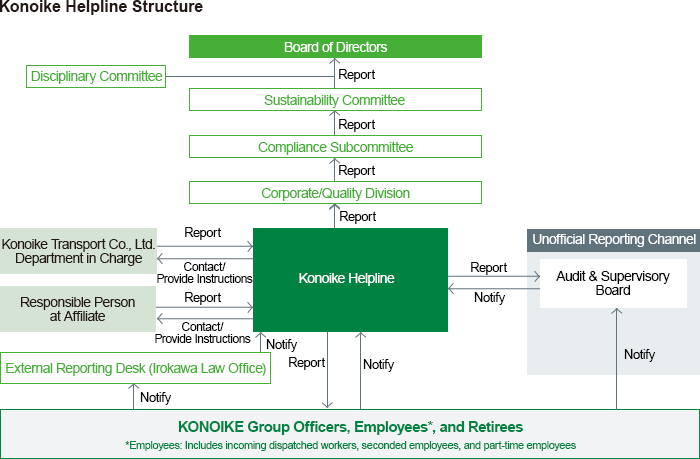 Crisis Management
We define a crisis as any situation that threatens the survival or business continuity of the KONOIKE Group, whether such a situation is caused by internal or external factors, arises suddenly, or is a result of poor management. We define crisis management as an emergency response, recovery activities, or business continuity activities in response to a crisis. We have built systems capable of responding appropriately and rapidly to events, one example of which is our Crisis Management Standards. We prepare various manuals for ready use in case of natural disaster.
The KONOIKE Group Definition of Crisis
Any potential harm to the life or safety of any group officer, employee, or concerned party
Any potential interruption of service and potential of significant loss to customers
Any potential threat to lifestyles due to risk or potential violation of social norms
Any potential significant damage to the KONOIKE Group corporate image, either directly from a risk or due to negative reporting by the media
Any other potential interference, damage, or significant loss to business continuity, asset maintenance, or operational management
Check the KONOIKE Group Integrated Report 2022 here.