Konoike-Pacific California, Inc.
Committed to Meeting Customer Expectations
Konoike-Pacific California, Inc. is located approximately 8 km from the two ports of Los Angeles and Long Beach, which serve as the primary gateways for Pacific Rim imports and exports. The company is situated within the Overweight Corridor, where shipment of overweight containers is allowed. Konoike-Pacific California has sidetracks for both Union Pacific Railroad and Burlington Northern Santa Fe Railway. This multi-functional facility provides a wide range of services, including transloading from trucks and railway freight cars, rapid freezing and storage in freezer and cooler warehouses with a capacity for 26,000 pallets, and USDA inspections. Environmental issues are proactively addressed, such as through installation of a 1.5-megawatt solar power system with approximately 7,600 solar panels. The staff at Konoike-Pacific California are committed to providing complete customer satisfaction.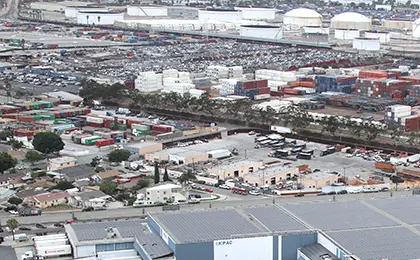 Head office address
1420 Coil Avenue Wilmington, CA U.S.A.
Phone No.
1-310-518-1000
FAX No.
1-310-518-3900
President
Richard Burke
Incorporated
April 25, 1985
Employees
141
Employees
$33,070,000
Line of business

Transloading: Repacking of freight arriving by truck or rail into containers for ocean shipping (and the reverse for import freight)
Freezer and cooler services: Shipping and storage of frozen and refrigerated freight (rapid freezing room also available)
Transportation: Drayage of ocean freight containers used for transloading from the ports, and transport of stored freight and import ocean freight containers
USDA inspection: Inspection of meat for import/export by USDA inspectors
Brokerage services: Arrangements for return freight for empty trucks