Sustainability Implementation Structure
Basic Philosophy
The corporate philosophy and mission of the KONOIKE Group is "We pursue innovation at the foundations of our society that creates unique value, driven by respect for humanity and relationships of trust." In addressing issues related to sustainability, we will also aim to achieve – through the execution of this corporate philosophy – a society that will bring happiness, safety, and a sense of security to various stakeholders surrounding the KONOIKE Group, which include clients, employees, shareholders, and regional communities.
Sustainability Committee and Subcommittee Activities
As an advisory body to the board of directors, the Sustainability Committee (Chair: Chief Administrative Officer) responds to inquiries from the board, discusses individual sustainability issues, and reports regularly to the board on the content of these discussions. The Sustainability Committee has five subcommittees under its umbrella, each of which evaluates and provides regular reports on subcommittee annual plans and operational status. The Sustainability Committee strives to ensure fairness and objectivity by inviting one outside expert to sit in each subcommittee.
Sustainability Committee
As of October 31, 2022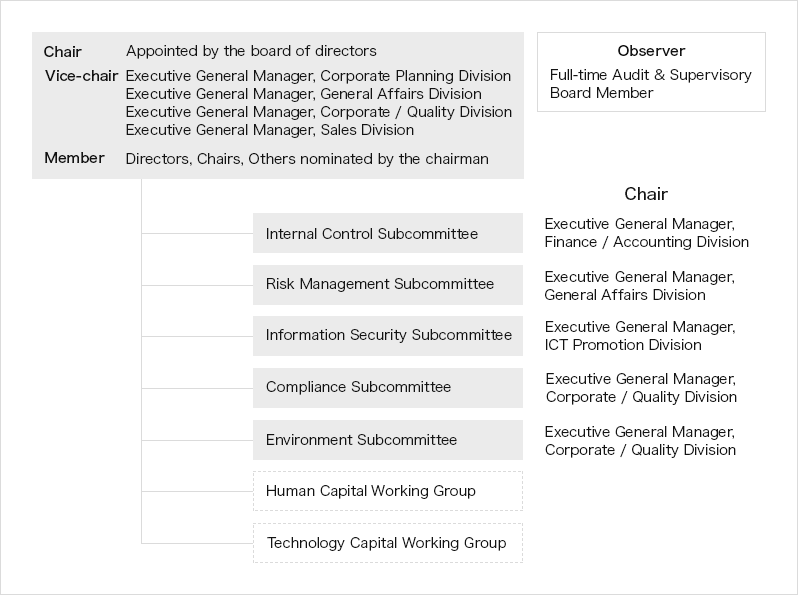 Activities of the Five Subcommittees
Internal Control Subcommittee (Chair: Executive General Manager of the Finance/Accounting Division)
This subcommittee establishes and operates group internal controls (primarily J-SOX) and verifies KONOIKE Group responses to internal control issues.
Risk Management Subcommittee (Chair: Executive General Manager of the General Affairs Division)
This subcommittee conducts regular risk assessments and selects identified risks to respond to changing operating environments. In addition to determining the departments that have jurisdiction over these risks and setting evaluation targets (control targets), the subcommittee monitors the progress of initiatives and otherwise works to reduce risk.
Information Security Subcommittee (Chair: Executive General Manager of the ICT Promotion Division)
This subcommittee maintains the Basic Policy on Information Security and related regulations, studies human, physical, and technological measures related to information security in general, monitors the state of information security, takes steps to prevent and detect incidents, and responds to emergency situations. The subcommittee has formed an Information Security Measures Team that establishes and periodically reviews specific measures for improvement. The team also conducts trainings and manages the (PDCA) cycle to maintain and advance information security.
Compliance Subcommittee (Chair: Executive General Manager of the Corporate/Quality Division)
This subcommittee works to formulate and review compliance policies, manage PDCA cycles, and strengthen domestic compliance structures. Further, the subcommittee identifies cases related to the internal reporting system (Konoike Helpline).
Environmental Subcommittee (Chair: Executive General Manager of the Corporate/Quality Division)
This subcommittee aims to ensure legal compliance and mitigate environmental impact by evaluating compliance with environment-related laws and regulations. The subcommittee also confirms the status of environmental conservation activities and discusses, drafts, and implements measures for improvement.
Sustainability Issues
We established three medium- to long-term non-financial targets for the group: (1) Environment, (2) People, and (3) Technology. The Sustainability Committee monitors these targets as priorities, and we will continue to pursue related efforts. We will continue to identify important issues related to these three non-financial targets objectively, and identify closely related materialities from the perspective of enhancing corporate value. We will then incorporate these materialities into management strategy to enhance the sustainability of our business activities.
KONOIKE Group Three Non-Financial Targets
Environment
We contribute to the creation of circular societies through carbon neutrality.
People
We will engage in human capital management for sustainable growth through human resources development based on management strategy.
Technology
We will strive to automate and save labor through technological innovation and DX, while we create safer and more secure working through the use of technology.

Check the KONOIKE Group Integrated Report 2022 here.